Home
> Documentaçaõ
> Particulares
Documentações Barrisol : Particulares
Editions BARRISOL Keishu Kawai
Master Keishu Kawai was born in the Japanese district of Ibaraki, to the north of Tokyo. Trained in the art of calligraphy at the prestigious university of Tsukuba, she then trained under the Grand Master Sôin Furutani in Kyoto and became a Master of Calligraphy in her own right, exhibiting works across the globe.
---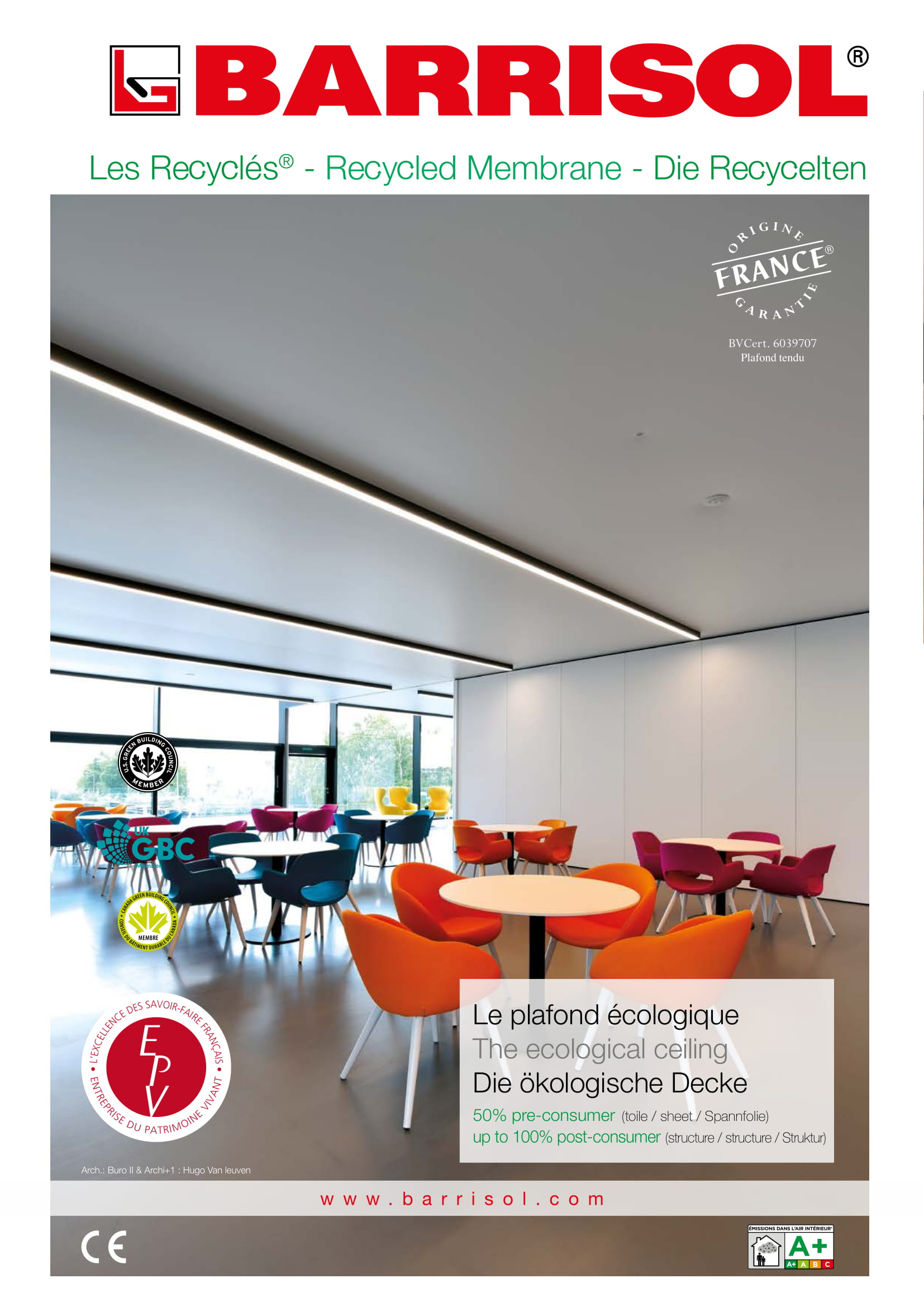 BARRISOL Recycled Membrane
One of our priorities is to respect the environment and thanks to the range Les Recyclés®, Barrisol® also wants to offer you efficient acoustic comfort.
---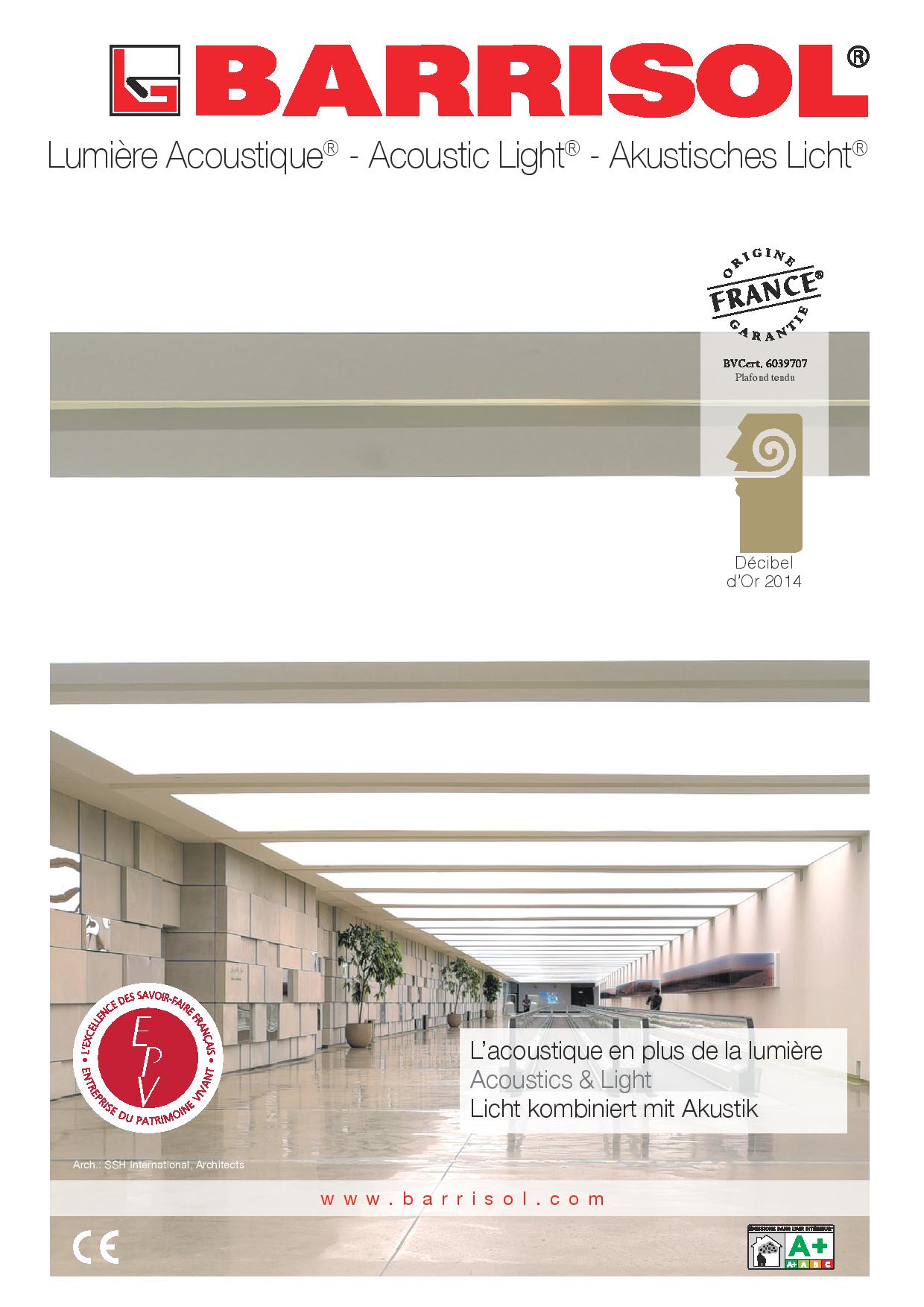 BARRISOL® Acoustic Light®
Acousticians and architects have been expecting it for years. Acoustic light has now become a reality. LUMIERE ACOUSTIC ® by BARRISOL® is the result of many years of research and development. The luminous material has become acoustical, retained its attractive appearance and has excellent sound absorption coefficients...
---
BARRISOL Barricouleur
Faça a sua escolha entre os difrentes coloridos e acabados Barrisol.
---
BARRISOL® ELT3D®
The Barrisol® ELT®3D product range provides an exceptional, illuminated 3D effect by harnessing the light produced by the LEDs in the woven fabric (in a diagonal or square pattern, etc.). ELT®3D products can also be used as an acoustic solution, incorporating a specially adapted sound absorber (acoustic light).
---
Barrisol GTs
Fabric glass is a material that is part of the family of wall and ceiling coverings. Consisting of extremely fine glass wires, its strength and durability are the most appreciated characteristics.
---
Barrisol Light Lines
With Light Lines® lighting system, you can choose the look you want, depending on your decorative desires and your lighting needs.
---
Barrisol Clim
Silent, invisible and even.
Thanks to the consistent wall temperatures, the natural air flow and the large heat-exchanging surface of the ceiling, Barrisol® Clim® provides unparalleled comfort whether heating or cooling your home.
---
Editions Barrisol - Chantal Thomass
Style and glamour for your walls and ceilings!
Each motif, whether pert or graphic, presents the unique world of Ms Thomass. Paris, world capitals, the mouldings of heritage buildings, and of course, love, all wrapped in glamour and elegance.
---
Editions Barrisol - Hansi Museum
Hansi, an iconic artist.
Thanks to an exclusive partnership with Barrisol®, you can now create a décor with the idyllic images of Alsace.
---
Collection Matières - Marble Effect by BARRISOL®
Turn marble into a flexible and lightweight material with acoustic and luminous properties, which can be adapted to all shapes...
When printed in millions of colours on Artolis® and Barrisol® membranes, a wide variety of marbles can be used for unlimited applications.
---
Collection Matières - The Wood by BARRISOL®
Turn wood into a flexible and lightweight material with acoustic and luminous properties, which can be adapted to all shapes...
That is what the exciting new Matières range from Barrisol® promises to do...
---
Collection Matières - The Brick by BARRISOL®
Replace heavy materials like brick and stone with innovative lightweight materials to revolutionize interior design! Lightweight Barrisol® and Artolis® membranes allow applications out of the reach of conventional materials.
---
Collection Matières - Concrete by BARRISOL®
BARRISOL® ceilings and Artolis® walls are printed in millions of colours thanks to digital printing, which is now integrated into the know-how of BARRISOL®. Make concrete decors with the finish of your choice in our large range of concrete effects.
---
MICROSORBER® by BARRISOL®
MICROSORBER® by Barrisol® is an innovative sound comfort optimizer reducing sound reflexion thanks to the use of a micro perforated foil.
---
BARRISOL® L'ESSENTIEL (o Essencial) 2013/2014
A nova documentação L'ESSENTIEL 2013/2014 apresenta todos os produtos da gama Barrisol
®
. Ilustrada por numerosas realizações, esta brochura com mais de 60 páginas apresenta o conjunto das soluções Barrisol
®
.
---
Editions BARRISOL® Museu da impressão sobre Tecidos
Com uma parceria exclusiva com o Museu de Impressão de Tecidos de Mulhouse (M.I.S.E), as Edições Barrisol® propõem mais de 6 milhões de motivos tirados dos arquivos têxteis do mundo, oferecendo-lhe a possibilidade de utilização das mais belas criações do mundo têxtil.
---
BARRISOL® Editeur contemporain du patrimoine
Com uma parceria com os Museus Nacionais (RMN), cerca de 750.000 obras de arte conservadas nos museus nacionais e regionais franceses, como os museus do Louvre, Orsay, estão disponíveis para a realização dos seus projetos.
---
BARRISOL Fotos 1
Discover wonderful realizations in a numerous type of place, for private areas.
---
Le fauteuil by Vallon
Barrisol® continua inovando com a criação de um conceito único em colaboração com o artista Joël Vallon : le
fauteuil by Vallon
. Uma poltrona personalizável com um disenho elegante para uma decoraçăo única !
---
Luminário PLUS
Um projeto inovador nasceu graças à colaboração entre Barrisol® e o jovem designer Alix Videlier: O Luminário Plus. Esta suspensão com um forma minimaliste cria uma mbiente luminoso original para todo o tipo de lugares.
---
Novo folheto Qualidade, Saúde e Segurança Barrisol
Um folheto completo no qual encontrará as vantagens e certificação qualidade dos produtos Barrisol.
---
BARRISOL e a Ecologia
Barrisol compromete-se na proteção do meio-ambiente graças à sua gama de produtos os Recyclés
®
.
---
Descubra as aplicações profissionais aplicáveis em casa de particulares